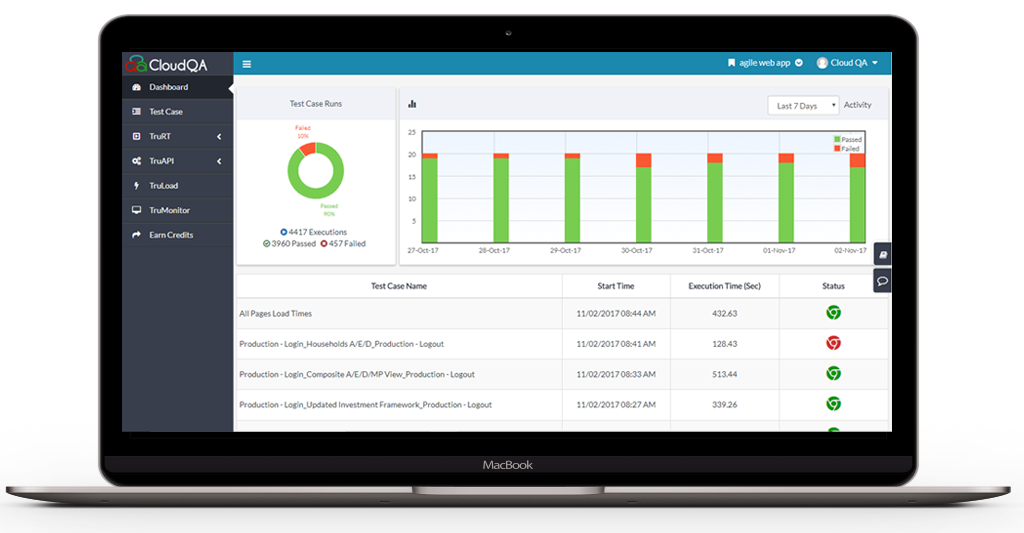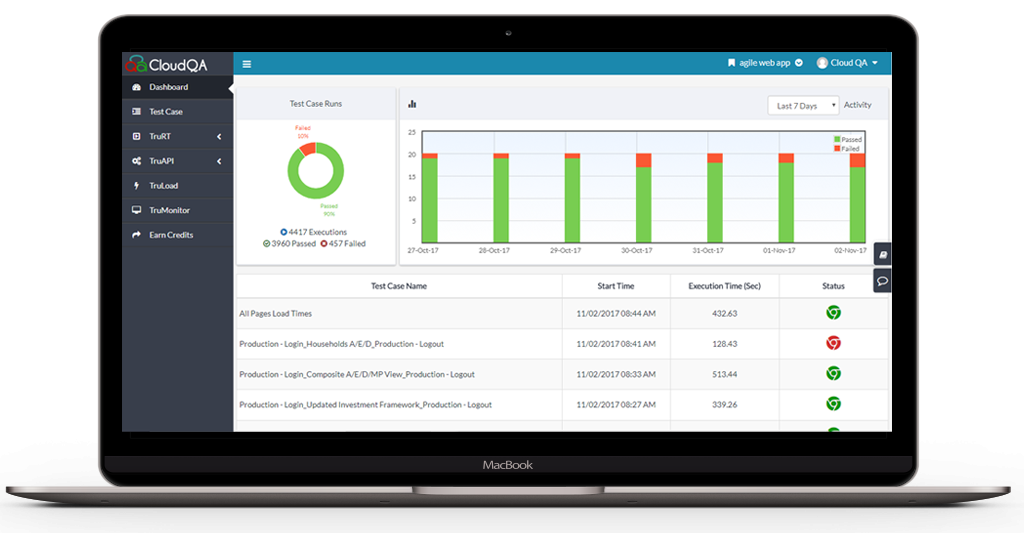 Top FIVE reasons to consider CloudQA
Completely Integrated QA Automation Tool
Minimal Setup and Quick Deployment
Optimized for Web applications
Most Comprehensive Testing
Completely Integrated QA Automation Tool
We integrated various testing requirements on a unified platform. You can not only perform multiple types of tests but also support the complete QA life cycle. By integrating with 3rd party tools CloudQA can be a comprehensive QA platform.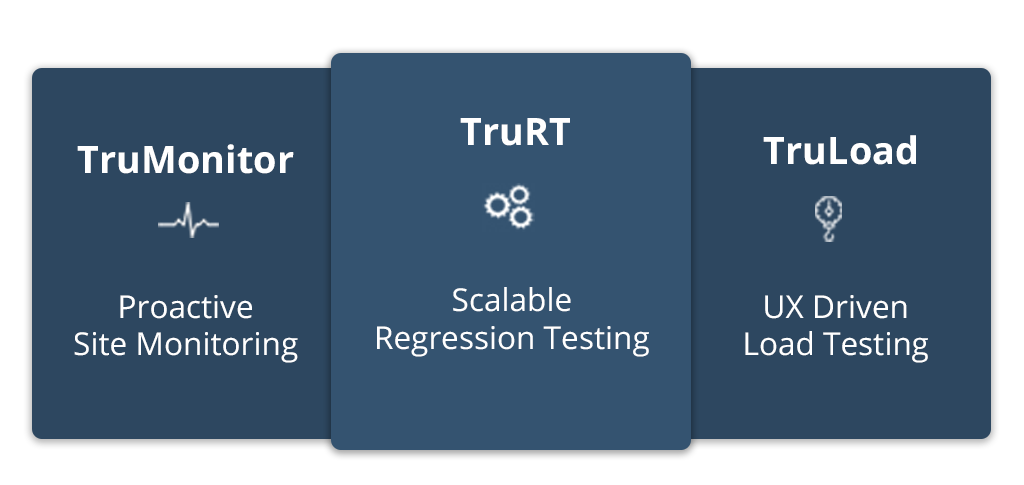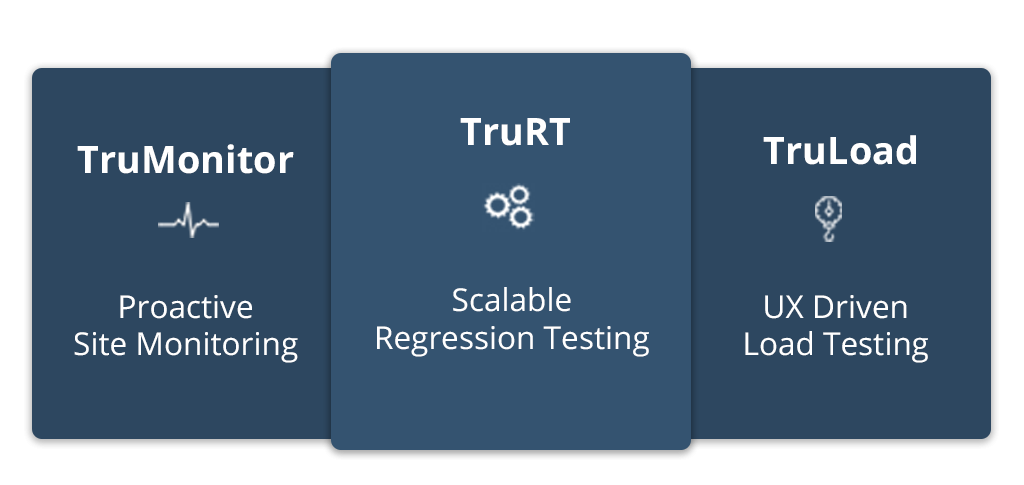 Unified Platform.

Testing

modules were developed on one platform with a common architecture. This allows you to create a complex test case in minutes. You can reuse the same test case for regression testing, load testing, and synthetic monitoring—saving effort and complexity of building individual test cases for each type of test and testing them in three separate platforms.
Complete QA Lifecycle Support. 

QA lifecycle starts with test definition, which is followed by test creation, editing, maintenance, execution, notification and reporting—all these are integrated so that it eliminates multiple points of failure and reduces the typical implementation risks which comes from using disjointed tools.
Integration With 3rd Party Tools. 

CloudQA provides integration with:

ALM tools (TestRail, TFS, Asana)

Bug Tracking (Jira, BugTracker)

CI/CD (Jenkins, CircleCI, TravisCI & DevOps support)

Open API Integration

Team communication (Slack, SMS, webhooks)

Version control tools (Github, TFS)
Minimal Setup and Quick Deployment
CloudQA is a cloud based testing platform where building test cases is codeless and intuitive. With least infrastructure and low learning curves the setup is minimal and deploying a test case is quick.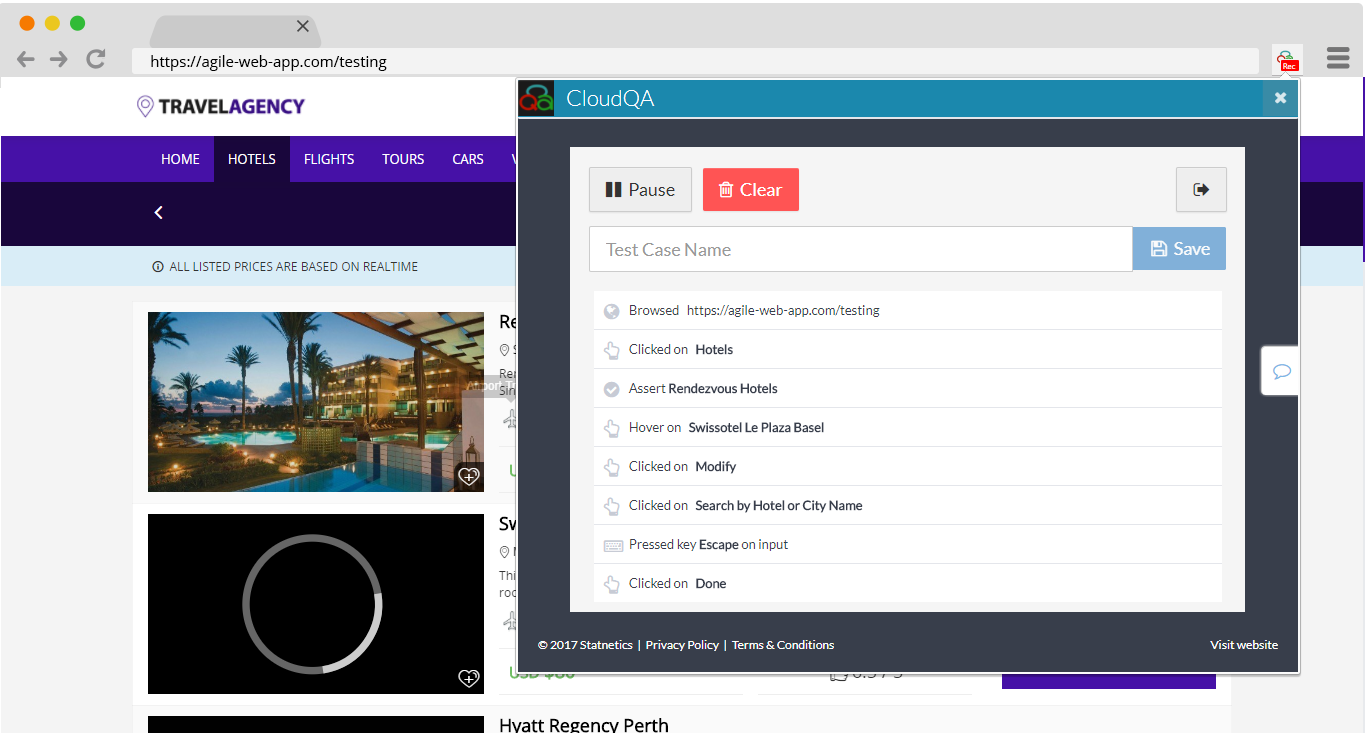 Codeless Automation. Unlike other QA tools, that require days or weeks of software development to create automated test cases, CloudQA achieves it in a fraction of the time via codeless test automation. The smart test recorder captures the steps in the application's workflow to build the test case. You can quickly cover hundreds of test scenarios even on a complex application.
Cloud Based. Traditional QA tools require expensive infrastructure like a "test lab" with multiple computers, software on each machine and a central management console–the upfront requirements are expensive and take time and effort to set up. CloudQA utilizes cloud infrastructure that requires minimal setup and least on-site infrastructure.
Low Learning Curve.

A familiar user environment where you type, click and interact in other ways with your web application is sufficient to operate. Getting started is intuitive so that any person with basic web browser skills can be productive with CloudQA.
Supports Testers Of All Skill Levels.

Test creation is typically the most complex process of testing automation. Especially, since most QA tools either require programming skills or expertise in their own scripting language to create tests. CloudQA doesn't require any coding expertise so business users who have the functional knowledge of the application, but no development background, can create their own tests without being dependent on a developer. Skilled testers can use it to increase coverage of testing, and manage numerous tests with less effort.

s.
Optimized for Web applications
Our platform supports popular and emerging web technologies. This ensures out of the box support for your web app. The support extends to complex dialogue handling, data driven testing and smart AJAX synchronization.
Broad Technology Coverage.

CloudQA supports popular web technologies and frameworks including:

JavaScripts.

Support for jQuery, Angular, Ember, React, Vue, Knockout, Backbone, Single Page Applications (SPA). Plus, it supports dynamic element identifiers, asynchronous calls, AJAX callbacks, and more. These are used by 90% of web developers.

CMS.

Includes excellent support for all popular CMS like WordPress, Drupal, Joomla, Sharepoint, Magento and more. Allows you to manage and test all your dynamically changing CMS content.

Supports Most Development Tools.

Native, out of the box, codeless automation support for ASP.net, PHP, Ruby, Python, NodeJS, including nested iFrames, DevExpress, Telerik controls, etc. Can save you weeks to months of setup and custom coding testing routines.

Complex Dialogue Handling.

Supports dialogue handling for modern and legacy web applications including – modal and non-modal dialogs, new windows and new tabs, etc. Whereas, other testing tools require complex custom scripting and advanced development know how.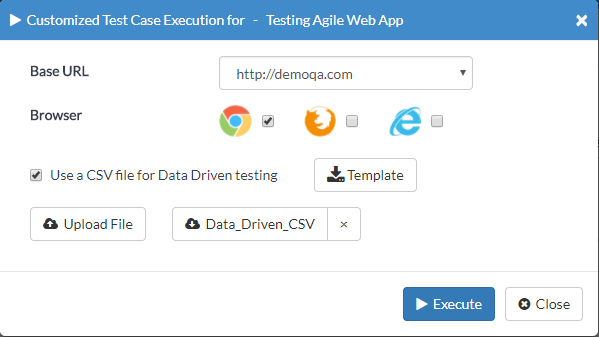 Data Driven Testing.

CloudQA has a mature data driven automation framework where test data (input or verification values) can be:

Pre-defined as static values stored in a auto generated CSV file.

Auto generates dynamic data values.

Harvests running system using store variables.

Making it easy to add additional data inputs to the test cases when new functionality is discovered or added to the application under the test.
Smart AJAX Synchronization. CloudQA supports automatic waiting for AJAX and Page Loads so there is no need to keep track of every AJAX call in your application or add explicit wait steps– thus speeding up the creation and maintenance of tests.
Most Comprehensive Testing
CloudQA is built for speed, and scale that accounts for real user experience. It is much more than a record and playback testing tool.
Powerful Test Recorder.

It uses Smart resilient accessors, locators and Object Spy with an optimal CSS Selector algorithm that works with majority of web technologies. This is to fix test scripts that have broken locators—making it easy and automatic to locate your target element. Thus, allowing you to record robust, cross browser friendly automated tests on various web technologies without coding.
Measure and Track Real User Experience.

Tools using virtual browsers cannot measure the amount of time a browser takes to render a page on the screen. CloudQA works with real browsers to measure and track end user experience as perceived by your customers (instead of a proxy metric) ensuring the most accurate measure of real user experience.
Elastic Scalability With Fast Parallel Testing.

CloudQA can scale to run hundreds or thousands of tests in parallel, on demand. This helps you achieve speed and reliability without the expense of a massive on-premise virtual machines or geographically distributed counters.
CloudQA is the undisputed price performance leader with lowest cost of ownership. Monthly pricing starts at as low as $100 which makes it most affordable complete QA automation tool. When you consider the minimal equipment cost and the minimal need for expensive testers, it comes out far ahead of the competition.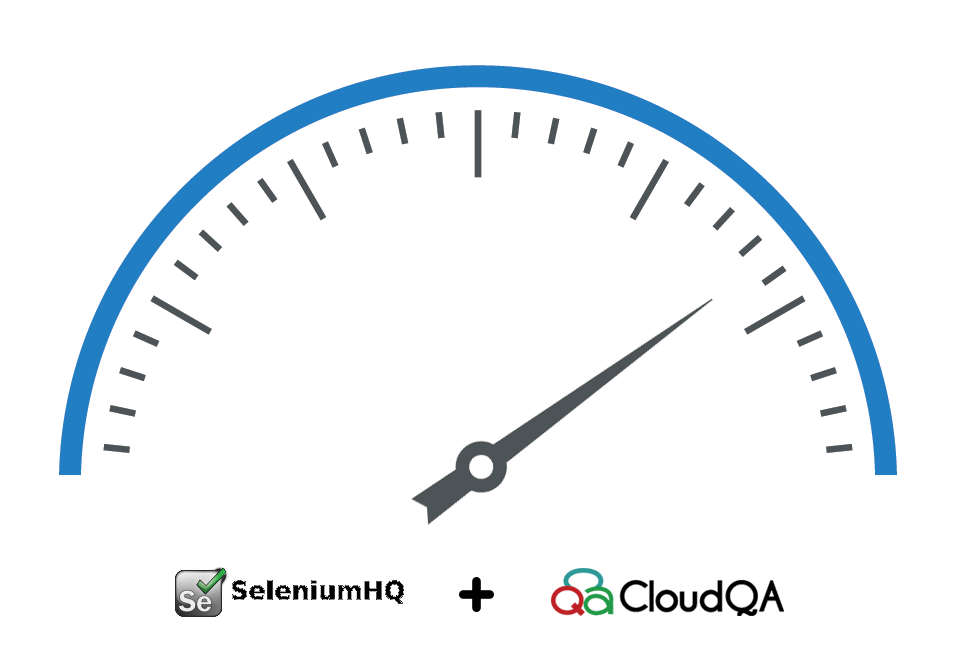 Low Infrastructure Requirements

. It only needs a connection to the cloud.

Personnel Requirements.

CloudQA is an easy to learn, so it can be used with minimal development skill by business analysts, functional users, or testers.
Low Effort For Test Setup and Execution.

Setup time is minutes, not hours or days so you can be up and running in record time. Plus, the learning time is low—considering the same core technology is used for functional test, load test or site monitoring.

Consumption Based Pricing Model.

CloudQA pricing is a tiered model based on the functionality and the execution minutes that you consume.
Access all our products for 30 days
Interested in live demo with our test engineer?