Accelerate regression testing with TruRT
Assure high-quality product faster. Scale regression testing on demand. Test user-like workflows on the application to mimic customer actions. Automate them with TruRT's powerful test execution engine.
TruRT's codeless platform is not only easy to use but also intuitive. It is rich in features that one would expect from an enterprise web testing tool. It offers a variety of integrations, remote test executions, advanced notifications, and comprehensive reporting among other productive features.
TruRT is more than a regression testing tool. You can maintain test suites easily and collaborate with the team.
Automate your web app's tests with user-like workflows on real browsers. 
Validate components such as JS, JQuery, CSS, Screen resolution and test browser compatibility.
Download auto-generated templates for creating your test data.
Upload multiple test-data for a single test-case. Data-drive any form to add, delete or modify information.
Easily edit the test cases with changes in your application. 
Reuse repeatable steps in any other test case. 
Curtail impact of changes in the CSS selectors.
You need only a few clicks to automate regression testing. Switch between environments, select browsers, and upload a file for data driven testing.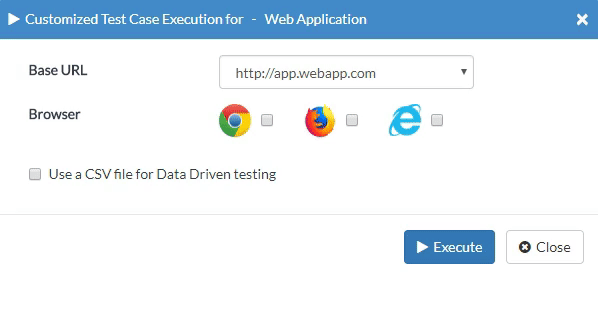 Set up useful test in minutes!
Test in multiple environments
Switch testing between environments of the base URL. Use the same test cases in Development, QA, Staging, or any other parallel environments.
Collaborate with the team
Add a team member for real time collaboration on various test cases. Distribute responsibilities and scale together.
Reduce efforts, add productivity, increase coverage, collaborate with your team and accelerate your regression testing with TruRT.
Why use TruRT for test automation?
Thoughts and Opinions about Regression testing
What is UI regression testing?
Regression testing, in general, is the process of reviewing software to ensure that it can still do everything it was ever designed to do. Unlike standard testing, it doesn't test only the latest functions — consider it the equivalent of a full-body physical Read more…
What is automation regression testing?
Automated Regression Testing ascertains code changes and functionality issues. In other words, it is a quality measurement check to discover if new code complies with the old code so that the remaining unmodified code stays unaffected
Read more…
What is codeless regression testing automation?
Coding from scratch test after test is expensive, time-consuming and requires acquired skill. Codeless testing enables quick and simple creation of tests. No coding skills are needed. This allows the testers to focus on what they do best: testing Read more…
What is functional testing?
A properly written functional test ensures that the system is functioning exactly as the USER expects it to. Functional tests target business goals and typically defined and validated by an expert end user. Since it may not be possible for an expert to test the functionality of the system at each and every step of development Read more…
Why you must automate functional testing?
When you have a commercial web application, you are always challenged to remain competitive.  You are constantly under pressure to roll out new features for your clients. While software developers have adopted agile methodologies to speed up software release cycles, this process can leave Read more…
Migrating to Regression testing
More about Regression testing tools